General Information
GUARANTEE:
Our products are guaranteed to be as describe in this catalog. If you are not satisfied for any reason, you may return the UNDAMAGED item within 14 days for a prompt full refund (less shipping charges).
Knives CAN be broken by misuse. Blades are hardened by heat treatment. Therefore, they can, and probably will break if, they are thrown, used as a screwdriver, can opener, crowbar, pry bar, chisel, ax, hammer, splitting maul, wedge, cutting torch, car jack, house jack, black jack, skyjack, lumberjack, etc. Handles are also breakable if the knife is misused.
The intent of this guarantee is to provide the purchaser time to verify the quality and appearance of the purchased knife. Or, you may just change your mind. That's OK too.
Under normal circumstances and care, our products should provide many years of service.
DISCLAIMER:
Knives, by their very nature, are dangerous. We cannot control how they are used. Therefore, we cannot and will not assume any liability whatsoever for any personal injuries and/or damages. Use these items at your own risk. Please use these items responsively and carefully. ALWAYS KEEP KNIVES AWAY FROM CHILDREN!
KNIFE METALS:
Blade Steel:
Many of the blades we use are purchased from outside professional commercial sources. These blades are high quality blades and are made by experienced manufacturers, using highly trained personnel and specialized equipment. If we had to make these blades it would take a significant amount of time (e.g., forging, stock removal, shaping, grinding, heat treating, etc.). By procuring blades, we can spend extra time on knife construction and finishing. Manufacturers' names are available by request. (They don't advertise for me, I won't advertise for them!

).
Chart S1
below shows typical steels used in our blades. Metals shown in
bold
are the steels we most commonly use.
Bolster, Finger Guard, and Pin Steels:
We use only high quality brass and nickel silver for bolsters, finger guards and pins.
HEAT TREATING AND TEMPERING:
All blades have been heat treated to enhance physical characteristics. Normally, blades are tempered to achieve a Rockwell "C" hardness of about 59. Some blades have been cryogenically treated to greatly enhance edge-holding capabilities.
HANDLE MATERIALS:
Only the finest materials are used for handles. Materials are hand selected for critical characteristics. Handle materials include exotic woods, mammoth ivory, etc. These materials are also used to make our pens and pencils. See
Chart
H1
SHEATH MATERIALS: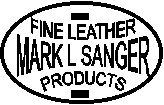 Top grain, high quality cowhide is used to make our sheaths. We use various weights depending on size and style of the sheath. Most weights are between 4 oz. and 12 oz. I lean more to the heavier leather (9 to 10 oz.). It provides better protection for the user, as well as, the knife. Sheaths can be dyed in almost any color imaginable. The more common colors are light brown, medium brown, dark brown, saddle brown, and black.
Most sheaths are lined with thick suede leather lining. Lining colors are too numerous to list. Common colors are various shades of brown and black.
Sheaths are available in exotic skins. Examples are eastern and western rattlesnake, python, cobra, ostrich, and many more. We also have leather "fake skins" to simulate exotic skins (e.g., alligator, ostrich, etc.).
Sheaths are of high quality materials and construction. Heavy-duty hardware and thick thread are used on all sheaths. Most sheaths come with linings that are glued and completely sewn into the sheath. I've used this method on holsters and after 30 plus years, the linings are still perfectly attached. The lining keeps knives from being scratched by coming into contact with metal hardware. Sheaths are sewn by hand-operated leather sewing machine for a professional appearance. Thread is available in many colors. The most common colors are brown, black, and white. Other colors are available by request. We offer hand-tooled sheaths with basket weave, oak leaves/acorns, etc.
Special orders are welcome. Please feel free to submit your own design, specify colors, hardware, etc.
We enjoy making the sheaths as much as the knives! Please feel free to order sheaths for your own knives. We'll just need a tracing and a few dimensions of your knife.